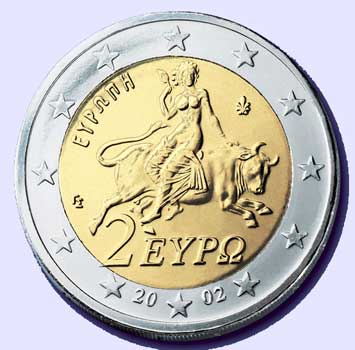 Okay, cards on the table: I've always liked the idea of the Euro. I have no more nostalgia for the lira, escudo and deutschmark than I have for the sovereign, or the louis d'or. And, after living for nearly six years in the heart of Burgundy, I believe in terroir and appellations. A glass of Volnay should taste recognizably different to a Pommard made from vines grown a few metres on the other side of the track. At least to someone with experience of both villages' wines. So, in theory, at least, I believe in appellations.
However... both the currency and the notion of regional designation are human concepts. And for that reason, they don't work. The problem with the euro is that it cannot sustainably work for both tax-shy Greeks and industrious Germans.
I'm writing this after recent encounters with two bottles of attractively labelled Rioja on sale in Spain for under €3.50, and one with a bottle of Marques de Murrieta Reserva costing over five times as much. The first two were near- worthless wines and the equivalent of Greek euros; the latter was absolutely delicious and, in Euro terms, had German quality and reliability stamped all over it.
The inherent flaw in both appellations and the currency lies in the way they have been allowed to expand. When the first
appellations contrôlées
were created in the 1930s, the people behind them were mostly the best and best-known producers in their regions. As time moved on, the clubs they launched opened their doors to ever larger numbers of others who did not necessarily share their skills, values or aspirations.
All too often the lowest common denominator gets the upper hand. This arc seems to be the destiny of almost every denominated wine region in the Old and New World. Anyone familiar with Margaux will be familiar with some chateau-owners in that commune's tendency to demand the highest possible yield per hectare for their wines. Priorat was an irrelevant source of communion wine until Palacios and Barbier came along. Then, for a while, this region was transformed into a synonym for fine, expensive reds. Today, Palacios's wines still command a healthy premium but anyone who wants to put a bottle of Priorat on their table should head straight for Lidl in Germany which offers a version at €4.85. Similar stories could be told of the late-comers in Marlborough in New Zealand who contributed to a collapse in the price of wines there.
The only hopes for the Euro, the experts say, is either for all of the countries that use it to be obliged to work to the same strict set of rules ( through some form of central control) or for it to be limited to an inner core" of genuinely like-minded players. There are parallels in the wine world. The appellations that are most coherent are ones like Pauillac (limited in numbers, with shared ambitions and standards) and Buzet (one winery controlling most of the production). Elsewhere, producers try to create some coherence of their own
within
appellations (the Douro Boys in Portugal; Union des Grands Crus de Chablis in France; VdP in Germany). Alternatively, they do what several countries have chosen to do with regard to the Euro: they decide not to join. The premium, non-appellation Vinos de Tierra in Spain, IGTs in Italy and IGPs and (rather fewer, so far) Vins de France in France strike me as all being rather like the Swedish and Norwegian currencies, relying on their own strengths to survive.
Of course, there's one huge difference between the Euro and appellations; the former has been attacked by critics since it was launched; very few people ever question the logic of lumping hundreds of great, mediocre and humble wines together. Which is why I'm doing so here...