South Africa's, Chile's and Argentina's giant Southern Hemisphere tasting in London (yesterday and today) was fascinatingly illustrative of wine in the UK in 2013.

On the (very) positive side, there were over 350 exhibiting producers, many represented by a winemaker or a representative from the winery. This was particularly welcome as the number of these men and women who have taken the trouble to come to the UK has shrunk over recent years.

There were great tri-nation themed tables with names such as "Red Blends" and Chardonnays over £10" which showcased some fascinating wines, and trends across the three countries.

There were well-attended seminars on subjects including climate change.
Based on what I saw yesterday, the event was well attended - if not packed- and most of the all-important buyers from Britain's all-important chains were spotted on their way around the hall.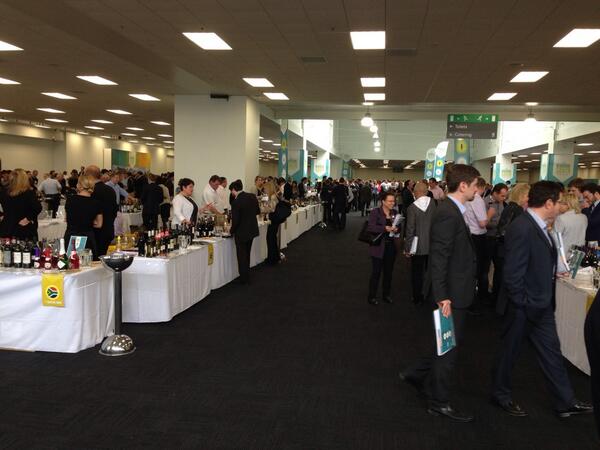 Picture posted by David Finlayson of The Edge Wines
@the_edgewines

On the other hand, I - as regular readers will have expected of me - had some small and larger reservations.
Budgetary considerations apparently precluded the provision of adequate signage outside the building so, like others, I spent some time searching past other (evidently better-funded and better signposted) events before I found my way in.

(Perversely, I found this an admirable physical representation of the wine trade's attitude to communication generally: "if you're not bright enough/haven't done enough homework to find us, you don't deserve to be here" is very like "if
you're not enough of a wine buff/haven't done enough homework to
know how this wine is likely to taste, you don't deserve to buy it).

Once inside the hall, the same tight budgets had evidently also ruled out dressing a large hall that looked and felt like a warehouse. An extra £5 or £10 rental from each of the tables would probably have more than covered projection equipment that might have conveyed some of the flavour of the three countries. Whatever else it was, the Beautiful South was not beautiful to look at.

The look of the hall was part of a bigger picture that bothered me. Politics (again) dictated that there was no visible branding of producers, brands or importers. No drop-down posters... no video screens... Even wooden wine boxes with winery names had to be removed from sight. Everything was focused on the bottles and their contents. This was in stark contrast to the presentation I had attended earlier in the week of Concha y Toro's new James Bond-like cinema advertisements for Casillero del Diablo - and to the brilliant website marketing efforts of South African wineries like La Motte and Creation.

I'm sure that, for many people, this was a major positive quality of the Beautiful South. And I'm equally sure that many exhibitors appreciated the low price of renting a trestle table for a couple of days rather than the huge costs of building a stand at the London Wine Trade Fair.

But what it meant was that the factor that the wine industry so often bangs on about - the "story behind the wine" - was totally absent. This was essentially wine-as-commodity. Flavour+Packaging+Price=Saleability. It was a brilliant environment in which to present a well-made, well-presented, attractively-priced wine, but not one in which to foster aspiration.
More than anything, it reminded me of the sterile halls in which I have tasted the entries to Australian wine competitions following the announcement of their awards. Or of a tasting I recall attending in Moldova in the good old days of the Soviet Union where utilitarianism was still flavour of the month. An event of this kind would be unthinkable in the US or China. Producers and importers would insist on injecting some imagery and branding to support their sales efforts.

I suspect/expect the Beautiful South to go on to become a successful annual fixture on the UK wine calendar as an invaluable opportunity to taste a very large number of samples from three very important wine producing countries. But I doubt that it will do much to address the fact that, in the year ending June 2013, fewer than six bottles out of every hundred purchased to drink at home in the UK cost over £8. Looked at from the other end of the telescope, 84% sold for under £6. Those figures will have gone up since then. But not by much. They'll accommodate the rise in duty rates.

I really do hope that Beautiful South will help the best producers of South Africa, Chile and Argentina to increase their 2.6%, 1.9% and 1.5% respective shares of the >£10 UK market. Maybe they'll steal some of New Zealand's astonishing 15.1% share. Or France's 45.9%. (All statistics from Nielsen). But I'm far from sure that the event will do much to help increase aspiration for wine in Britain, or the readiness among UK consumers to spend over £7 or £8 for a bottle.